Poetry
A selection of poems from Granny Scarecrow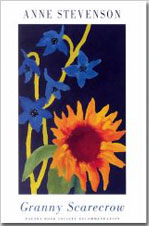 Vertigo

Mind led body
to the edge of the precipice.
They stared in desire
at the naked abyss.
If you love me, said mind,
take that step into silence.
If you love me, said body,
turn and exist.
---
Clydie is Dead!

Our lar, our little mammal.
Though his last day didn't believe it.
It kept on moving at its usual heartless pace
over and around a hollow cat-space.
We buried him by the toolshed.
The cat flap wouldn't believe it,
so we sealed its chattering mouth.
We seized and scrubbed his feeding bowls
and sent them to a far shelf.
The fact is, nothing in the house could bear it
when Clyde dropped out of himself...
who waxed loquacious on the subject of roast meat
and cat's rights, who took favours
from my fingers at mealtimes as just deserts,
who always kept his dress-shirt spinnaker-white
while extending an urgent tongue to his tabby parts;
who reserved for himself, every morning,
a place on a lap, whereon for a while he might
subdue a human; upon whose face
the cat-painter's brush had slipped a little
applying the Chinese white; for which he received
in compensation, huge Indonesian eyes -
polished jet in a setting of crinkled topaz;
whose tail was so long he could wrap himself up in it;
who could fill with his length, without exertion,
the entire shelf over the radiator;
who was adept at the art of excretion,
and discreet as to the burying of personal treasure.
Dear, wise Clyde, who after tyrannical Bonnie died,
thrived in her absence, Hadrian after Domitian,
you will never again rule us by vocative law,
or pull back the bedclothes at six with a firm paw,
or bemoan the indignities of travelling by car,
or flourish an upright tail on crepuscular walks,
no, nor compile statistics on the field mice of Wales.
Pwllymarch was your chief estate,
you whom Oxford made and Cambridge unmade,
though Hay-on-Wye and Durham made you great.
Much travelled, valuable, voluble Clyde,
who said so much, yet never spoke a word,
requies cat.
---
Granny Scarecrow

Tears flowed at the chapel funeral,
more beside the grave on the hill. Nevertheless,
after the last autumn ploughing,
they crucified her old flowered print housedress
live, on a pole.
Marjorie and Emily, shortcutting to school,
used to pass and wave; mostly Gran would wave back.
Two white Sunday gloves
flapped good luck from the crossbar; her head's plastic sack
would nod, as a rule.
But when winter arrived, her ghost thinned.
The dress began to look starved in its field of snowcorn.
One glove blew off and was lost.
The other hung blotchy with mould from the hedgerow, torn
by the wind.
Emily and Marjorie noticed this.
Without saying why, they started to avoid the country way
through the cornfield. Instead they walked
from the farm up the road to the stop where they
caught the bus.
And it caught them. So in time they married.
Marjorie, divorced, rose high in the catering profession.
Emily had children and grandchildren, though,
with the farm sold, none found a cross to fit their clothes when
Emily and Marjorie died.